Second hand
Our company also deals with import of second hand road tankers from other European countries. The vehicles are sold with all the necessary documents (we carry out technical inspections).
We collaborate with many leasing companies and credit institutions, which allows us to finance the vehicles sold by us, using quick and simplified procedures.
Banks and leasing companies finance all the vehicles independently from their production year.
At the moment we have the following road tankers for sale:
Date of manufacture:

2008

Capacity:

30.000 litrów

Description:
View more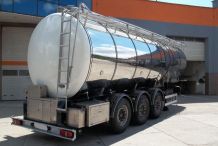 Date of manufacture:

2004

Capacity:

50.000 litrów

Description:

zawieszenie pneumatyczne, ABS, os podnoszona, osie BPW
View more